CAMRA PUB OF THE YEAR 2023
THANK YOU TO OUR LOCAL "CAMPAIGN FOR REAL ALE" FOR VOTING US CHELTENHAM'S PUB OF THE YEAR
Great Beer, Great Service & Great Experience.
Whether you're after a quick drink after work or a leisurely catch-up with friends, we've got you covered. Since 2013, our pub has been a destination for quality beer in Cheltenham, offering 10 cask lines and 16 keg lines, alongside a refreshed wine and spirits list. And yes, we're dog-friendly too!
Looking for the best Cheltenham pubs for a dog-friendly Sunday lunch? Or a large pub garden in the centre of town? Look no further than the Sandford Park Alehouse! We were voted CAMRA National Pub of the Year in 2015 and Cheltenham CAMRA Pub of the year 2023.
We pride ourselves on working with local and national suppliers to keep our beer range fresh, relevant, and appealing. And if you're feeling overwhelmed by the choice, our passionate staff are always on hand to help you make the perfect decision.
So why not come down to Sandford Park Alehouse for a pint, a delicious Sunday lunch, and some good company? We can't wait to welcome you!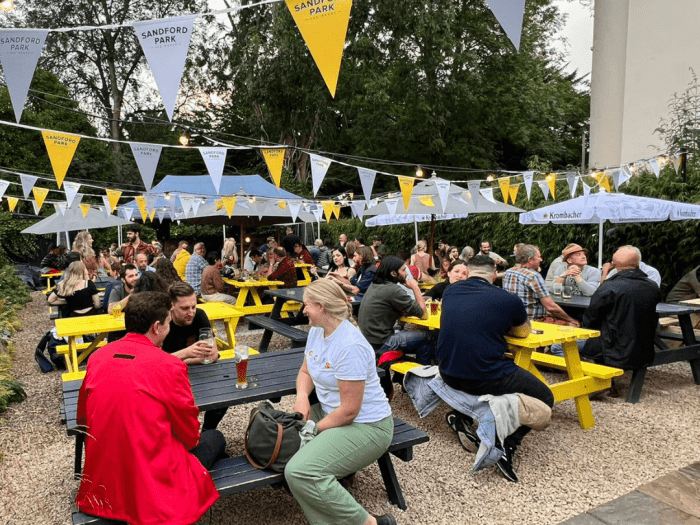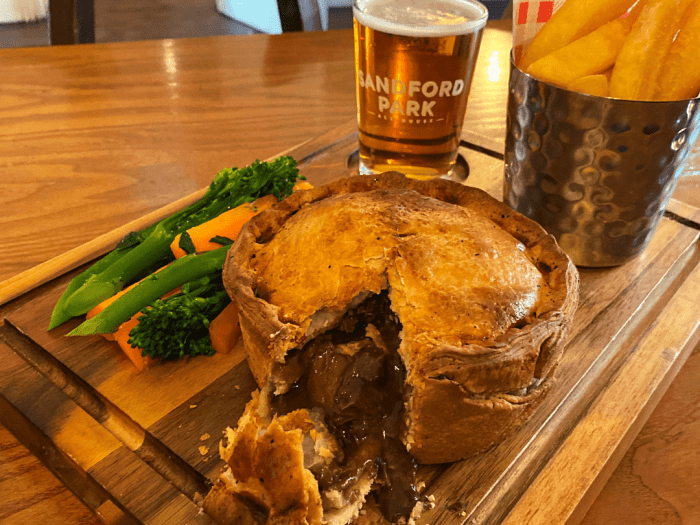 Looking for a pub in Cheltenham with great beer and delicious seasonal menus? Look no further than the Sandford Park Alehouse kitchen! Our menus are specially crafted to complement our fantastic range of draught and bottled beers, featuring ingredients sourced from local suppliers and traders. From classic British pub fare to international beer food and traditional Sunday roasts, there's something for everyone to enjoy.
And why not take advantage of our South-facing beer garden and experience al fresco dining all year round? We host a variety of events throughout the year, including summer BBQs, Oktoberfest menus, and our annual Cheese & Cider festival. There's always something exciting going on at the Sandford Park Alehouse!
So come on down and see what all the fuss is about. Our friendly staff are ready to welcome you and help you discover your new favorite dish and beer pairing. Book a table today and experience the best of Cheltenham pubs with Sandford Park Alehouse!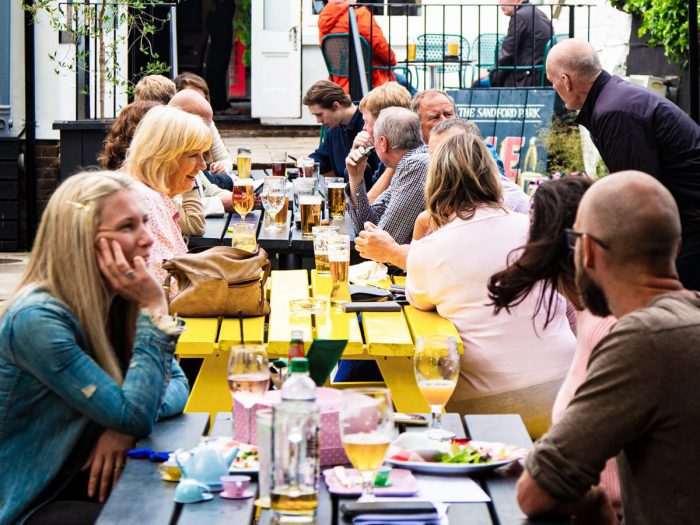 Drink alfresco with friends
Looking for a spot to unwind by the river Chelt and soak in the beauty of Sandford Park? Look no further than our beer garden! It's the perfect place to relax after a long day or kick back on the weekend. And we're not just talking about a few tables and chairs – we're talking about alfresco dining at its finest, with everything from BBQs to Paellas.
But that's not all – we also host some of the most exciting events in town, including our famous Cheese and Cider Festival. It's a must-visit for cheese and cider lovers, as well as anyone looking for a great time. And with a fantastic selection of beers on tap, you won't want to leave!
So come for the great beer, stay for the beautiful surroundings, and enjoy all the fantastic events we have to offer. We promise you won't regret it!
Be the first to know about our menus and events
Please review our privacy policy to see how the data we collect through our website will be used and protected from misuse.